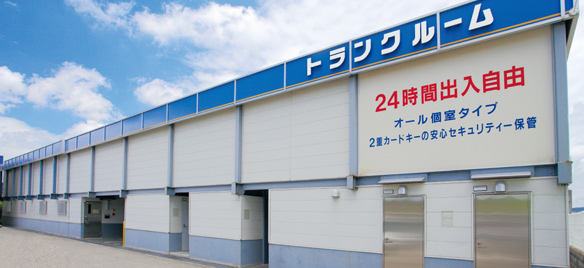 Transport
<Moving> Get a convenient way!
Business tie-up with other moving companies.
Various options are available according to your budgets and situations: easy-to-handle, knockout-priced light-truck type to no-hassle moving-specific type.
We are happy to accept moving just to your new house.
Storage
<Field warehousing> Keep it safe and secure!
Compartment type for 24-hour-a-day access.
Security guaranteed with card keys.
Dust-proof, damp-proof, heavy-duty steel construction.
Comes in various sizes 1.98m2 to 10.725m2
Insurances
<Fire insurance> Feel reassured!
Tokyo Marine & Nichido Fire Insurance agency.
Fire insurance for field warehouses.
Home fire insurance, automobile insurance, etc.
may also be available at affordable premiums.
Field warehousing Ast Box Nakanoshima

Address: 726-4, Nakanoshima, Wakayama-city, 640-8392 Japan
No. of compartments: 28
Size: 3.3m2 to 9.9m2
Rental rate: 8,925 to 22,050 yen monthly and tax included

Field warehousing Ast Box Kuroda

Address: 260, Kuroda, Wakayama-city, 640-8341 Japan
No. of compartments: 120
Size: 1.98m2 to 10.725m2
Rental rate: 5,775 to 24,150 yen monthly and tax included

Field warehousing Ast Box Daishin

Address: 4-1, Shinnakadori, Wakayama-city, 640-8376 Japan
No. of compartments: 107
Size: 2.475m2 to 10.725m2
Rental rate: 6,825 to 25,200 yen monthly and tax included